About Us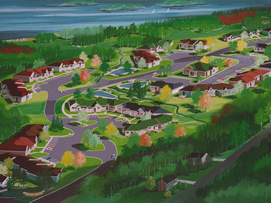 Chandler's Cove Artistic Rendition
Perhaps one of Chester's best kept secrets today is our retirement village at Chandler's Cover. Bright, spacious custom designed garden homes are in a very picturesque setting, a short walk to the Atlantic Ocean and to Chester Golf Club. It's a new adult townhome community set in surroundings so magnificent you'll think it's reserved for the very wealthy.
So come and see - then you'll think again
This new development offers the pleasures of the Chester lifestyle, plus the common sense affordability of townhome living.
Chester itself is an intimate but thriving community with all the facilities and services you'll need. Like banks, supermarkets, pharmacy, medical and dental clinics, police and postal service. It's an easy one-hour drive from Chester to the Halifax International Airport - gateway to the world. Historic Lunenberg and Bridgewater are just a short, scenic drive to the west.
Chester is a charming village of 900 people that dates back to 1759. Today, it's every bit as appealing as it is historic. Originally given the picturesque name of Old Shoreham, Chester started out as a thriving fishing village, which was also well known for the church bells cast in the local foundry. Stroll down the narrow, twisting seaside lanes past a weathered restaurant deck. Stop in one of the many shops and boutiques and pick up a hand-knitted sweater or a quilt that reminds you of your grandmother's house. Or wander down to the yacht club and try not to beswept away by the sail boats as they bob in the gentle surf.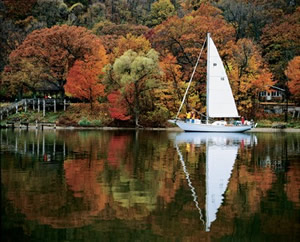 Every August Chester's inner harbour welcomes racing yachts from all over the East Coast of Canada and the United States.Many competitive sailors visit the area during Race Week, then want to come back permanently! And those who sail simply for their own pleasure know Nova Scotia's South Shore is truly one of the most desirable places on earth.
There are plenty of entertainment and recreation choices nearby, including fine dining, concert-going, superb golfing and sailing, and a theatre, The Chester Playhouse.